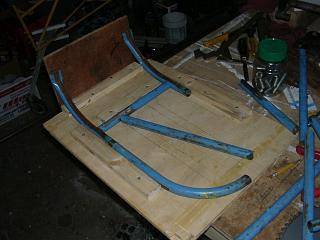 Pick-n pipes. One of the reasons for using chairs is they come ready bent. It's hard to get a really uniform bend without expensive tooling. I cut the chair up and carefully select the right pieces to make it all work.

Don't use the chairs that are completely rounded on top. When you narrow the width of the chair to the width of the luggage rack, you'll end up with a pointed arch instead of a nice curve.

*Note the plywood jig used to make sure the rack stays square.